What is the coldest temperature the Grainfather Conical Fermenter can reach?
With the glycol chiller, it is possible to reach temperatures as low as 2C (36F). However, when a beer's temperature decreases, it's density increases. The problem arises if we set a target temperature lower than 6°C.
Also, like water, there is a temperature for beer which corresponds to its maximum density, at
which if its temperature is decreased further, its density will decrease instead of increasing.
The temperature at which the temperature-density relationship inverts we will call the inversion point, and it is somewhere around 1-4°C for beer. If a target fermenter temperature below 6°C is set, the fermenter may first reach that temperature and even maintain a reasonably uniform temperature distribution for some time. However, it is likely that at some point, while the cooling signal is on, the beer directly adjacent to the jacket (in the upper region) drops below the inversion point.
If this occurs, the beer in the upper region no longer increases in density and instead of sinking it remains buoyant, stopping the natural convection current from distributing the beer evenly inside the fermenter.
While the upper region continues to receive cooling from the jacket, due to the absence of the natural convection current, the lower region is deprived of cooling. This results in the lower region staying relatively warmer than the upper region i.e. creating a non-uniform temperature distribution. In extreme circumstances, the beer directly adjacent the jacket can freeze.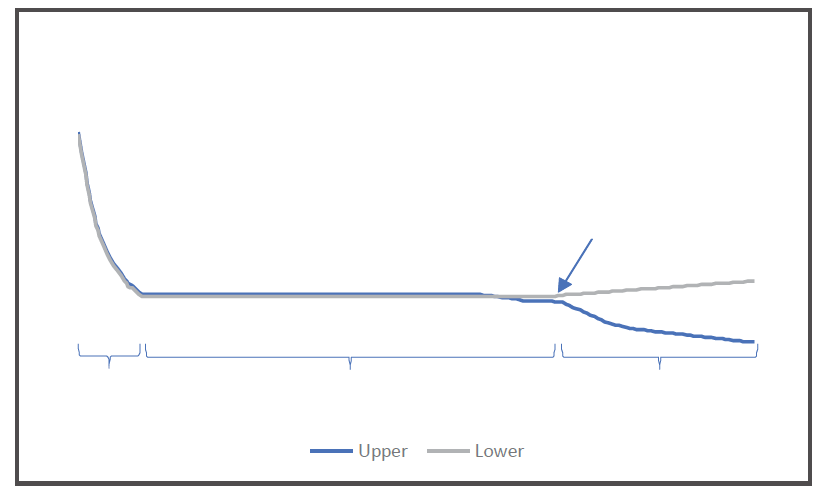 Note: The time of the onset of inversion will vary depending on the beer style and ambient conditions. Also, the lower the target temperature, the sooner the beer inversion may occur.